RESPONSIBLE BUSINESS THROUGH CRAFT PRESERVATION
Gigi Burris Millinery was founded on a love affair with the romantic craft of millinery. The dedication to preserving this old world craft is at the forefront of our brand ethos.
Each Gigi Burris Piece is proudly crafted by hand in New York City. Many of my partners are factories that have been in business for over three generations. It is essential to both support and celebrate these local artisans.
Thank you for your support as we continue to pursue this mission.
CONSIDERED MATERIALS
Food by-product rabbit fiber felt is manufactured with best practice animal husbandry. Wool felt manufactured with highest cruelty free measures in place. Natural straw fibers sourced ethically for summer styles. Fabric in cut and sew product is upcycled from remnants whenever possible.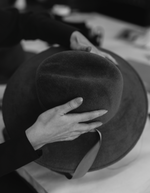 CRAFT PRESERVATION
Craftmanship is the heart of luxury and we are dedicated to preserving the field of millinery. Hats are shaped using the centuries old techniques of hand blocking. Artisans are educated in the unique skillsets of feather work, ribbon work and veil draping. Flowers are hand molded with heated metal stamps. We partner with artisan weavers practicing the art of Panama straw weaving.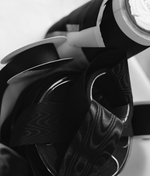 WASTE MANAGEMENT
The majority of Gigi Burris inventory is made to order to avoid overproduction. Our felts are ordered in Capelines instead of yardage to eliminate material waste. Excess fabric is strategically forecasted to create molded flowers. Merchandising for each collection is performed with material waste management as priority.