ABOUT GIGI BURRIS
A headpiece made with passion and skill reveals itself in every fold, stitch, and embellishment. The highest regard for the craftsmanship behind couture millinery compelled Gigi Burris to create a line of headware and accessories that infuses the traditions of hatmaking with the needs and personality of women today. With a keen eye for details, and an intuitive sense of what's just ahead of the curve, Gigi Burris' hats are assured, effortless, and alluring.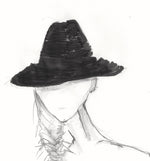 Millinery had its beginnings in 16th Century Europe, when artisans flocked from Milan to peddle collections of buttons, trims, and ribbons to members of high society in Europe. The profession soon found a welcome home in Paris, where women would seek out milliners to create one-of-a-kind pieces that allowed them to fit in—and stand out—amongst the crowd.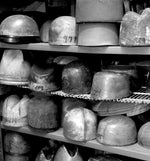 Like the most famous milliners before her, Gigi affirmed her craft in Paris as a student at Parsons School of Design. While there, she visited vintage mercerie shops and became fascinated with the embellishments found inside. As a student under Leah Chalfen at Parsons School of Design in New York, and during her internship with the designer, Gigi excelled in couture handwork and intricate handmade adornments. Today, she employs the use of handcrafted flowers, feathers, alligator skins, and silk ribbons to achieve a greater sense depth and play within her line.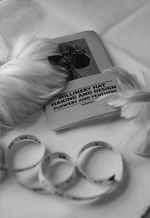 In her final year at Parsons, Gigi was nominated for the Designer of the Year Award, with a collection of hats that immediately attracted a wave of devotees due to their ingenious mix of the feminine and gothic, in shapes and styles that appealed to contemporary tastes.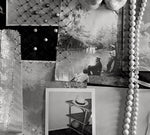 The Gigi Burris label followed soon after, and with it, Gigi's respect for artisanship. Each Gigi Burris piece is manufactured by hand locally in New York City. Hats are created using the centuries-old technique of hand blocking on wooden blocks. Her couture featherwork employs intricate millinery treatments, flowers are handmade by a floral atelier, and each crystal is individually placed. Gigi is just as meticulous in choosing materials, traveling great distances, and doing extensive research to find just the right fabric or detail to complete a piece.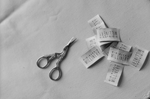 Gigi was honored as one of Forbes 30 under 30 Art and Style List in 2013 and was a CFDA Vogue Fashion Fund Finalist in 2014. She was nominated for a CFDA Accessories award in 2016. Icons like Rihanna, Lady Gaga, Bella Hadid, Sarah Jessica Parker, and Madonna are counted among her fans.